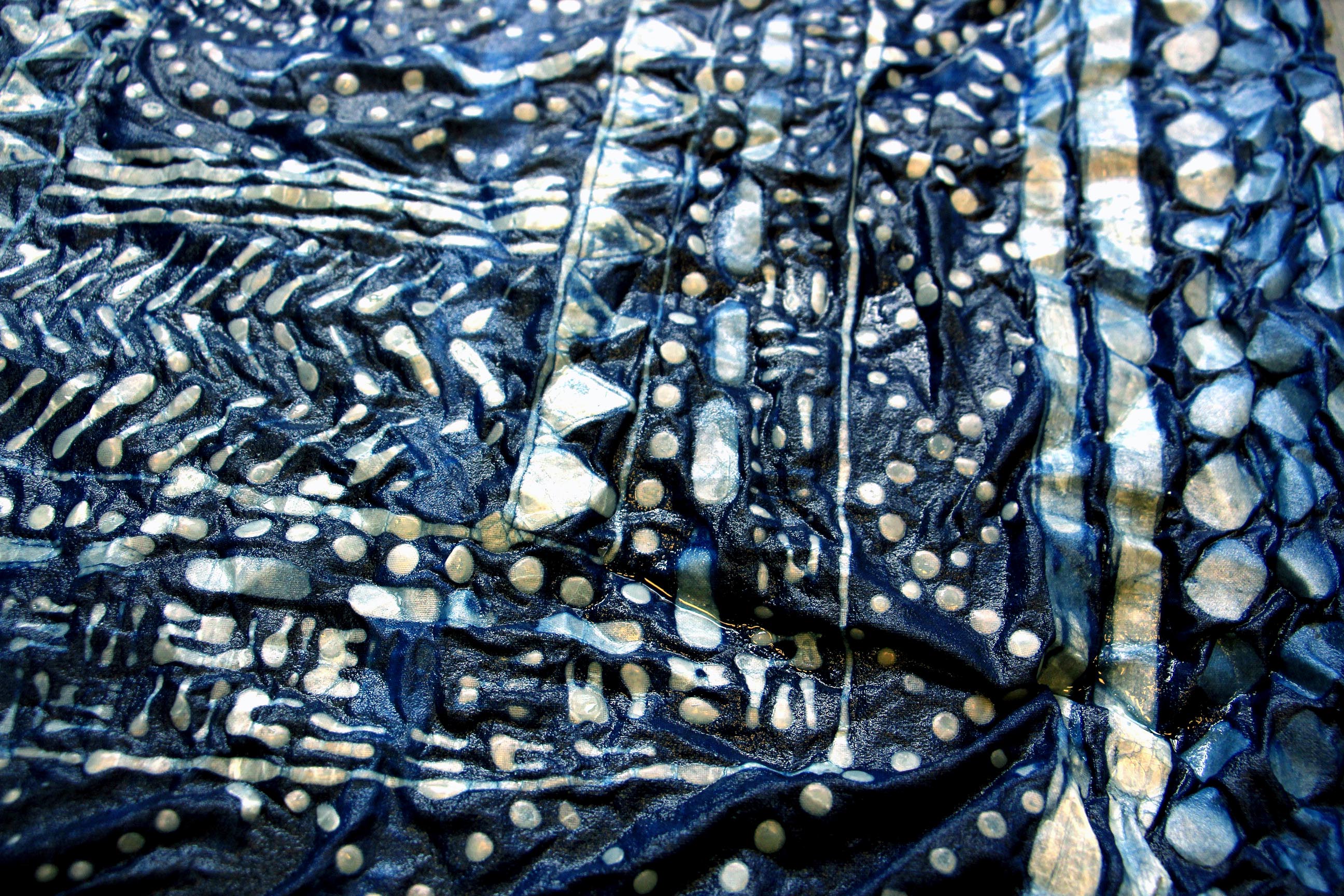 WORKSHOP: Batik
« Comme une eau, le monde vous traverse et pour un temps vous prête ses couleurs ».
Batik is an ancient wax resists dyeing method from China. First, the fabric is painted with hot bee wax, then it is soaked several times in an indigo dye bath. Once the wax is dry, it will prevent the dye from entering the fiber. The beautiful white and blue patterns will appear after the dyeing process, when the fabric is removed from the vat. Until today, this method is still applied and passed on to the younger generations by the Miao and Zhuang minorities. A vegetarian lunch is served and included in the price. The course is taught in French.
Date and time:
Saturday, March 9, 2019
10:00 AM – 5:00 PM
Location:
Belgium-Chine association & Confusius institute
Avenue Paul Deschanel 92
1030 Schaerbeek
Price:
85€ / 75€ for the Belgium-China association members
Programme:
• Patterns research
• Composition and sketch
• Application of the wax onto the cloth
• Dying process with indigo
• Finalization
Material:
We will provide each participant with coton cloth, which you can bring back home.You can also bring your own piece of white coton to customize (pillow case, table napkin, panties,…). In that case, please wash it before in the washing machine.You are strongly advised to wear old clothes or an apron in order to protect your clothes.
–
FR
A propos de l'atelier:
Kivy Theunen, designer textile, vous invite à découvrir le batik, une technique ancestrale chinoise d'impression textile à la cire. La cire appliquée sur le tissu crée une réserve qui laissera apparaître des motifs de fleurs, d'oiseaux, d'insectes ou des formes abstraites au moment de teindre. Elle reste encore pratiquée et transmise aujourd'hui par les ethnies Miao et Zhuang. Un lunch végétarien est servi à midi et inclus dans le prix de l'atelier. Le cours se donne en français.
S'inscrire par e-mail à maude@belchin.be
Déroulement:
• Recherche graphique de motifs sur base de documentation
• Mise en composition des éléments choisis
• Dessin préliminaire du motif
• Application de la cire sur le dessin
• Teinture du tissu à l'indigo
• Lavage et finition du batik
Matériel:
Tous le matériel sera fourni, dont différentes sortes de tissus en coton.
Cela dit, vous pouvez apporter une pièce de tissu à customiser, comme taie d'oreiller, serviette de table, foulard, culotte,… Dans ce cas, ce doit être une matière naturelle (coton, laine, soie) et préalablement lavé.
Prévoyez des vêtements usés ou un tablier pour ne pas salir vos beaux vêtements.
Photos de l'évènement: